low income families
Free Refrigerator Programs For Low income Families
Free Refrigerator Programs are run help low income citizens get a brand new or lightly used refrigerator for free. Follow through the article to know how can you bag one for yourself.
Free Refrigerator Programs are the talk of the town these days. We get excited just at the sound of hearing the word free. What if I tell you that now you can get a refrigerator for free of cost. As weird as it may sound, it is cent percent true. Free Refrigerator Programs run across the countries by various agencies and organizations provide a free refrigerator for low income families.
Free refrigerator programs run by various organizations provide a free refrigerator for low income families that is not only easy on their pocket as the money to buy the product is saved but it also energy efficient. Unlike other refrigerators, the ones provided through free refrigerator programs consume less energy which in turn reduces your energy bill and you get to save up on the energy bill as well. Read along to know more about free refrigerator programs and organizations that run them.
Organizations That Run Free Refrigerator Programs
Various organizations have come forward with the initiative of free refrigerator programs that would help the needy and the poor to fulfill their needs. You can contact any of these agencies and get yourself a refrigerator for free of cost.
LADWP's Refrigerator Exchange Program:
LADWP's Refrigerator Exchange Program provides a free refrigerator for low income families. This refrigerator is an energy-saving, ENERGY STAR rated refrigerator. They provide you with a brand new refrigerator in exchange for qualified older model refrigerators. They provide a 15 or 18 cubic foot model that is more efficient and cost-saving than the older one that you might be using. However, some criteria are needed to be fulfilled by the applicant and the refrigerator that is to be exchanged.
The criteria that are required to be fulfilled by the applicant are:
The applicant must not have participated in the program before.
Being an LADWP electric customer is mandatory and the applicants should belong to either of the groups provided by the agency while filling the form.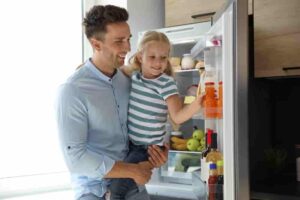 The requirements for the refrigerator to be eligible for exchange are:
The applicant should have a refrigerator that falls in the LADWP service territory.
The refrigerator must be owned by a tenant, property owner, or an organization.
The participant must have used the refrigerator for at least 10 years at the time of applying.
 The refrigerator must be in working condition at the time of exchange.
 The minimum area covered by the refrigerator should be 14 cubic feet.
 It must have been used as a primary unit and not in storage.
 The refrigerator should be properly plugged into an outlet that is properly grounded.
If you and your refrigerator meet these criteria then you must apply for the program and get yourself a more energy-efficient refrigerator, that not only saves up on energy bills but also costs you nothing as you would be getting for free if you qualify.
Low Income Home Energy Assistance Program provides free refrigerators through their free refrigerator programs. LIHEAP is a federally funded program that is launched to help low income families that are forced to pay a high portion of their income to the energy companies. It provides financial assistance to these families to buy energy-efficient products that can help them save up on their energy bills. They also provide appliances instead of finances to families who can not afford to buy these energy-efficient appliances.
There are a few criteria one needs to fulfill in order to be to elect for the free refrigerator program. The most important criteria for it is the income of your family. One has to keep in mind that this is a federal program that is run by each state. There can be some differences in the criteria and policies and income limits depending on the state. This also includes the policy of repair or replacement. In this policy, the state would decide whether an appliance is to be repaired or replaced to make it more energy-efficient.
As this is a federal program, one can avail of its services from any state, city, county, or town of the United States of America. However, it might be possible that due to the lack of resources, they might not be able to help you right away. You can choose to wait on their waiting list or opt for another way that provides a free refrigerator for low income families.
Must Read: Free Window Replacement Grants For low-Income Families
Weatherization Assistance Program (WAP):
Another program run by the government that runs free refrigerator programs is the Weatherization Assistance Program. WAP works to lower the risk on the environment by encouraging citizens to use energy-efficient appliances. For families that can not afford to buy energy star rated appliances, WAP provides finances and in some cases the appliance itself to reduce the risk of more energy consumption.
WAP provides roughly $8,000 depending on the family's income and the condition of the house they are living in. Low-income families with residents like a disabled family member, elderly, children, a member with special needs, and high energy users are eligible for the program. Families or individuals that are below 200% of the federal poverty level are eligible for the free refrigerator program.
WAP, like LIHEAP, is a federal program and hence is available in all the major parts of the country. You can apply for the program by visiting their agency office in your locality or by visiting their website. There you would also be able to know more about the program and about other programs that might help you in future.
Places That Help With A Free Refrigerator For Low Income Families
Low income families work very hard to make ends meet. It is very hard for them to buy appliances that are energy-efficient and in the budget as well. For families like these, there have been free refrigerator programs introduced that provide refrigerators either free of cost or for affordable prices. Read along to know about places that help with a free refrigerator for low income families.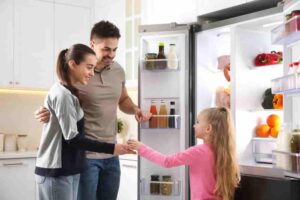 Everyone knows about Freecycle today but for those who are unaware of this wonder, let me tell you what it is! Freecycle is a website that is a platform for citizens to buy and sell products that are in a working condition. People who do not see the use of an appliance after a few usages or have bought another appliance rendering the old one useless can sell their appliances on this site. These appliances that are rendered useless by one can be a boon for another. People who can not afford to buy brand new products can check out this site for second-hand products that are available at low and affordable prices.
Freecycle, as the name suggests, is a medium that lets the citizens recycle their products by providing them with a platform to buy and sell reusable items.
Craigslist is yet another option that allows you to find a free refrigerator for low income families. Craigslist is also an online portal that offers products free of cost or at cheap prices. They might not run free refrigerator programs like huge organizations and government agencies but here you can find everything and anything that meets your needs. Here you can find various models of refrigerators that suits your requirement. Mostly, the ads posted here are from the people who wish to move out and are meaning to sell all the products of their old residence so that they can buy new ones.
Craigslist sites are location friendly and will tell you about the deals posted in your vicinity regarding the product you wish to buy. You can enter the criteria that are meant to be satisfied and the site will show you the results accordingly. Also, it is very important to check the condition of the product before you purchase it. It sometimes happens that the product you are rooting for does not turn out to be as you expected it to be. Therefore, it is necessary to check the condition of the product before taking the charge of it.
Furniture Banks are non-profit organizations that help low income families fulfill their need for appliances and furniture items in their house. A furniture bank is an agency that can be located anywhere across the country. Almost all the counties and cities and towns have a furniture bank. You can contact them and ask if they provide a free refrigerator for low income families. Often, the availability of the product is a question posed in agencies that run free refrigerator programs. Hence, it is only wise to ask before you go there to pick out the appliance suiting your needs.
Furniture banks are set up to help the community by providing a medium for easy buying and selling of products in the community itself. People who no longer wish to use an appliance( a refrigerator in our case) donate them to these banks who later on pass these appliances on to those who are in dire need of it. Often, benevolent souls that wish to do some charity work, also donate brand new items to these banks. If you are lucky enough then you would be able to bag a brand new refrigerator from these furniture banks.
Must Read: Free Air Conditioning Assistance for Low-income Families
Society of St. Vincent De Paul:
Society of ST. Vincent De Paul is one of the largest non-profit organizations that serve across the entire United States of America. They strive to provide resources, assistance, and services to the poor and needy. They also provide help with a free refrigerator for low income families. They would provide you with resources to buy a new, energy-efficient one or provide you with a free refrigerator through free refrigerator programs run in collaboration with stores that are benevolent enough to help the needy out.
As it is a nation-wide charity, one can avail of its services from any part of the country. All you need to do is register!! You just need to register yourself and reach out to them for help with the appliance you wish to purchase. Once you fulfill the basic criteria to be eligible for the program, you would be put under review and if you pass through, you would be provided with a brand new refrigerator.
How To Get Free Appliances?
Talking about free refrigerator programs, one would also think if they can get other appliances for free as well or not. Well, the answer to your question is, Yes!!! Yes, you can get free appliances. There are various answers to the quest for How to get free appliances. The very first option to get free appliances is to ask your family and friends. You should start from home when in crisis.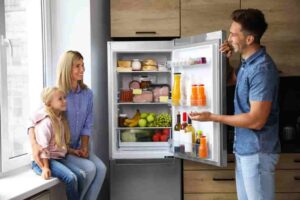 You can ask your family and friends if they are by any chance about to replace their old appliances with new ones. If they are, then you can ask them to give the used ones to you. If not then, you can ask them to inform you if any such deal opens up among them or their circle.
The next option is to go around hostels and hotels. Generally, when the students are leaving their rooms they tend to sell the old appliances to earn money for new ones. You can reach out to them and ask them to let you know if there is any such deal available. Similarly, hotels to keep their look fresh get rid of old appliances and furniture items. They often donate these items to charities or furniture banks.
You can go up to them and ask if there is any appliance that meets your needs and they are ready to give it away. If they do not have anything for you at that moment, you can always ask them to contact you if anything of that sort comes up in near future.
Conclusion
Free refrigerator for low income families is like a blessing as they hardly have that kind of money to buy energy-efficient appliances. Getting it through free refrigerator programs run by various agencies and organization is the only way they can think of affording such a costly commodity. Organizations and programs like the ones mentioned above signify that one can always look up to the community in times of crisis. For further information, you can contact the respective agencies and organizations.