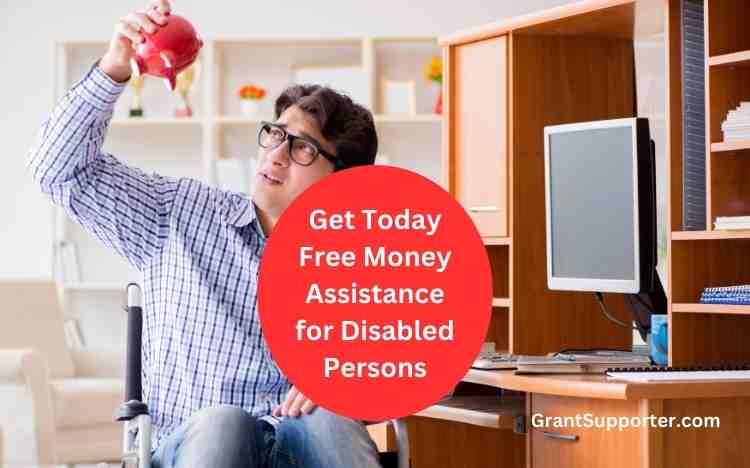 There are almost 11.8% of the total population in Texas that suffers from some disability. Many platforms assist disabled persons, including both federal and non-federal organizations. You can get the free money for disabled persons in Texas, considering several factors we shall discuss here.
A range of services, including financial aid, are available to support people with impairments. These initiatives could come from the federal, state, or municipal levels and offer in-kind support, subsidies, or direct financial aid for disabled people.
How to Get Free Money For Disabled Persons in Texas?
Financial assistance programs that provide free money for disabled Texas residents have different eligibility requirements depending on the program policies. These may include age restrictions, income limitations, resource restrictions, disability status, job profile, and other considerations.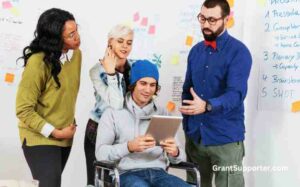 You must complete an application for each program to receive financial assistance for disabled people in Texas. Usually, the application procedure requires proof of identity, residency, income, resources, and disability status.
Remember that free money for disabled persons in Texas usually refers to assistance programs rather than cash. These programs frequently offer indirect help, such as medical care or vocational training, or direct payments for specific requirements, like housing or food assistance.
Numerous counties and communities provide local aid programs to assist disabled individuals. These programs may include emergency funding, utility help, and other services. To obtain a detailed list of these programs, please read further.
Where to Get Free Money For Disabled Persons in Texas?
You must understand that free money offered by various organizations does have attached reasons and conditions, and you may have to face implied charges or post-payment options. While applying for financial aid in Texas for people with disabilities, you must read their program policies and terms.
1. Supplemental Security Income (SSI)
To be eligible for Supplemental Security Income (SSI), a person must have a medical condition that qualifies for disability benefits, depending on the SSA's definition of disability. Like other jurisdictions, the government may offer free money for disabled persons in Texas with the application process through advocacy groups, state agencies, or legal aid programs.
Adults must have an impairment that prevents them from engaging in any meaningful, gainful work, and the illness must have lasted or been anticipated to last for at least a year or cause death.
You have three options for applying for SSI: in-person at your neighborhood Social Security office, online in some situations, or by calling the SSA's toll-free number, 1-800-772-1213.
To determine if someone is eligible for help due to their disability, you can go to the Determination Services (DDS) office in Texas, which collaborates with the Social Security Administration.
Learn how you can buy a campground with no money down and take advantage of some great deals and opportunities to earn money and have your own business.
2. Social Security Disability Insurance (SSDI)
Adult disabilities are defined by the Social Security Administration (SSA) as conditions that prevent an individual from engaging in any significant gainful activity (SGA) because of medically determinable physical or mental impairments or cognitive failure that have the potential to cause death or that have lasted or are expected to last for a continuous period of time of at least 12 months.
Generally, you require 40 credits, 20 of which must have been obtained in the final ten years, concluding with the year of your disability. Younger employees, however, can be eligible with less credits.
You can be automatically qualified for Medicare Part A (hospital insurance) and Part B (medical insurance) after collecting SSDI compensation for two years.
Before you receive your disability benefits, there is a 5-month waiting period given to you to ensure that you either have temporary or long-term disability. Remember that benefits are paid only to those with long-term disability.
3. Texas Health and Human Services (THHS)
If you are disabled, you can access various services from Texas Health and Human Services (THHS). By helping with healthcare needs, offering financial support, and guaranteeing access to community resources and support, these services aim to support disabled people in their day-to-day lives.
The following are some of the primary services and initiatives that the THHS offers to people with disabilities.
4. Texas Workforce Commission (TWC) for Vocational Rehabilitation Services
Through its Vocational Rehabilitation Services, the Texas Workforce Commission (TWC) provides job seekers with impairments and disabilities with vocational rehabilitation services (VR Services). The main goal of this service is to assist people with disabilities in reaching their career development, training, and job goals.
The vocational rehabilitation services include counseling and guidance, job training, educational and placement assistance, medical and psychological assessment, assistive technology for disabled persons, and other support services like transportation and child care during employment.
To be eligible for VR services, a person must have a physical or mental handicap or disability that creates significant barriers to employment. A disabled person needs VR services to prepare for their job, enter, engage in the interview selection process, or keep employment.
If you're a disabled woman or a single mom staying at home, take this opportunity to make money as a stay-at-home mom and receive your benefits during an emergency.
5. Texas Veterans Commission (TVC)
To guarantee that they receive the benefits and assistance to which they are entitled as a result of their service, the Texas Veterans Commission (TVC) offers a range of services to veterans, including disabled people. As they work to obtain the benefits they are entitled to due to their military service, TVC represents disabled veterans in Texas and looks after their requirements.
Under the TVC, the following program and services are available that enlarges the scope of getting free money for disabled persons in Texas.
Claims Representation and Counseling
Health Care Advocacy
Employment Services
Education
Veterans Mental Health Program
Grants and Fundraising
Entrepreneur Program
Women Veterans Program
Training for Disabled Veterans
NGOs Providing Financial Aid to Disabled
Several Non-Profit Organizations such as United Way, Salvation Army, and Easterseals can provide financial aid to disabled people in Texas. You can find them in the following list, although for the latest deals and money programs, you must get to their official web presence.
The United Way

The free and confidential 2-1-1 service from United Way assists people throughout North America in finding the local resources they require. It is available around the clock. Locating resources tailored to individuals with disabilities can be significantly aided by this.
Support programs for the disabled may include education, employment training, transportation, and other services designed to help them become more independent and enhance their quality of life.

The Salvation Army

The Salvation Army provides therapy and job training as part of its rehabilitation programs for those with addiction-related disabilities. This NGO offers many other types of assistance, including free money for disabled persons in Texas, food pantries, social activities, physical exercises, therapy sessions, and emotional nourishment for the disabled.
Under the adult day care programs, they help the elderly and disabled with everyday tasks in a friendly neighborhood setting and ensure the necessities are provided to the concerned individual according to their disability status.

Easterseals

They provide unique initiatives to assist disabled veterans in accessing the care and assistance they require. Programs have been created especially for people with autism spectrum disorders.
Easterseals is also involved in advocacy, seeking to remove barriers preventing those with disabilities from fully participating in society and influencing public policy on disability problems.
You can also learn about the 12 Free Money For Stroke Victims Programs and enhance your chances of participating in benefits provided by various organizations.
Conclusion
It would be great to have the correct information to facilitate and understand the scope of free money for disabled persons in Texas. There are plenty of opportunities provided by the Government and various NGOs, and you will get a detailed list of such programs and services that offer you disability assistance.
FAQs
Here are the Frequently Asked Questions to help you fetch quick answers regarding free money for disabled persons in Texas for better understanding.
What is the Texas grant for disabled people?
There are Texas Workforce Commission (TWC) Vocational Rehabilitation Services, The Texas Technology Access Program (TTAP), Comprehensive Rehabilitation Services (CRS), Fund for Veterans' Assistance (FVA), and many other grant programs that can help disabled people and support their survivals.
What is the emergency cash grant in Texas?
The Emergency Solution Grant (ESG) Program assists people to quickly regain stability in permanent housing after experiencing a housing crisis and/or homelessness.
How to get free money in Texas?
HHS offers cash assistance to Texans going through tough times. TANF offers cash to help pay bills, buy food, and help see your family through.
What is the Texas financial Hardship Program?
HHS offers cash assistance to Texans going through tough times. TANF gives cash to help pay bills, buy food, and help see your family through. TANF allows families pay for basic living needs.
How to apply for Texas grant?
You apply for the TEXAS Grant when you complete and submit the Free Application for Federal Student Aid (FAFSA) or other application as required by your college's financial aid office.