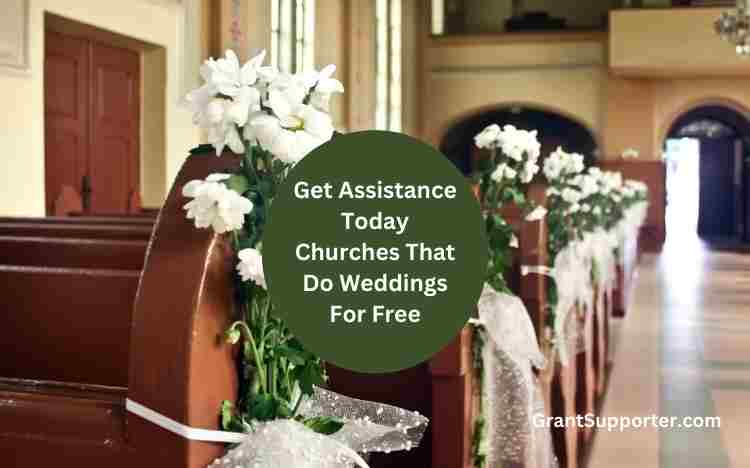 Since many churches charge for the ceremony and other services, such as the officiant, musicians, and building maintenance, getting a free wedding can be challenging. However, it is still possible to find one that does weddings for free.
Many churches that do weddings for free or at a reduced cost if you are an active member. Utilizing their facilities is one of the perks offered to members of particular churches. We shall discuss those churches that benefit you during the financial hardships in this article.
What Are The Churches That Do Weddings For Free?
Certain religious institutions and churches might offer financial assistance to the regular members of their congregants who are in financial need and unable to afford the wedding expenses. Waiving ceremony fees for weddings may be part of this.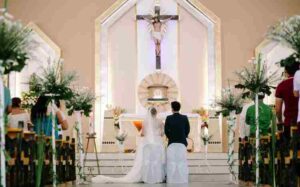 According to The Knot, the average wedding in the previous year cost $30,000 for the ceremony and reception. Before COVID-19, that was the most money a couple had spent since 2018 ($33,931). Additionally, it is $2,000 more than the average for the previous year (post-COVID), which was $28,000 for the ceremony, including the reception.
More guests mean higher wedding costs; according to Knot research, the average budget was $256 per person. The average number of guests attending a couple's wedding increased from 105 in 2021 to 117 in 2022. The reason why people seek the churches that do weddings for free is justified enough.
You can speak with the headquarters of different denominations to find out about any programs they may be aware of or churches they may be able to recommend that provide free wedding ceremonies.
Churches that engage in community outreach programs may occasionally provide complimentary free weddings to locals, especially the less fortunate and low-income families and individuals.
Military chaplains can also help you learn more about wedding ceremonies. If you or your partner is in the armed forces, contact the chaplain's office at your base.
Remember to show respect and consideration for each church's policies. You should also be aware that although the church may not charge for services, other components or facilities of the wedding arrangements, including music, flowers, and officiating clergy, may have charged fees.
Apart from the churches, there are also Government Grants For Wedding available for low-income couples who struggle to afford their wedding ceremony arrangements.
List of Churches That Do Weddings For Free
Churches that are bigger and have more strong community support systems would be better equipped to help needy couples. The help they can offer, though, frequently depends on the particulars, such as your level of religious membership or your current situation.
1. Lakewood Church
Based in Houston, Texas, Lakewood Church is a non-denominational Christian megachurch, well-known for its sizable attendance and overseen by Pastor Joel Osteen falls into one of those churches that do weddings for free.
It would be necessary to make direct contact with the Lakewood church's administrative office to find out if it offers specific wedding aid or can hold weddings for free or at a reduced cost for individuals who cannot pay the fees. You can directly contact this church to avail yourself of wedding assistance and receive the benefits during your financial hardships.
Phone: 713-491-1410
Email lakewoodweddings@lakewoodchurch.com
Address: 3700 Southwest Fwy, Houston, TX 77027
When you contact the church, let them know about your financial circumstances and inquire about any help they may provide for couples who want to get married there. You can make an in-person appointment if at all possible so that you may go over your needs in greater detail. Sometimes, this works better than sending an email or phone call.
Fill out your Lakewood Church Free Wedding Booking Form Here; for couples who have finished the pre-marital seminars at Lakewood Church, off-site minister services are available for wedding ceremonies.
2. The Potter's House
Founded by Bishop T.D. Jakes, The Potter's House is another non-denominational megachurch in Dallas, Texas. It is renowned for providing various community services and outreach, including free wedding assistance to low-income couples. You would have to contact the Potter's House church directly to inquire about wedding help, as these policies are usually handled on a case-by-case basis and are not generally publicized.
Phone: 1-800-247-4672
Address: 6777 W Kiest Blvd, Dallas, TX 75236
Remember that a church's ability to help with your wedding typically stems from a spirit of generosity and community support. If they can assist you, it is appropriate to thank them and, if possible, offer them to return the favor by volunteering or helping the church in the future for other's weddings or anything else.
3. Saddleback Church
Renowned for its extensive community outreach and initiatives, Saddleback Church, under the leadership of Pastor Rick Warren, is a member of the Southern Baptist Convention; you can get your wedding expenses fixed with their help and assistance.
To contact Saddleback Church, you can text MARRIAGE to 83000. You can also keep in touch with their Instagram handle, @MarriageAtSaddleback. You can also visit the church directly through the contact details.
Phone: 949-609-8000
Email: info@saddleback.com
Address: 1 Saddleback Parkway, Lake Forest, CA 92630, United States
Along with the free marriage assistance, this church also provides couple night out facilities and couple counseling for a practical personal life between both individuals.
You can also look out for the churches that help with bus tickets, along with your wedding assistance, as you may need to make traveling arrangements for your guests.
4. Willow Creek Community Church
Couples who are experiencing financial difficulties can be able to receive wedding or marriage assistance from Willow Creek Community Church, which is well-known for its sizable membership and array of community services.
To find out if they provide free wedding services, you would have to contact them directly through the following contact details, as such benefits can be seasonal and might not be regularly available.
Phone: +1 972-423-2950
Email:
Address: 1804 P Ave, Plano, TX 75074, United States
You can plan your premarital marriage with the Willow Creek Community Church and celebrate your happy wedding occasion. They also provide the associate couple counseling and other significant concerns regarding your marriage.
5. Concord Church
Based in Dallas, Texas, this is one of those churches that do weddings for free to contribute to the couple's assistance and offer wedding arrangements.
Phone: +1 214-331-8522
Address: 6808 Pastor Bailey Drive, Dallas, TX 75237
You can register in their Couples Seriously Interested (CSI) program, created for couples who cannot withstand the expensive cost of their wedding and also require some assistance during their ceremony planning at a low price.
How to Find Churches That Do Weddings For Free Easily?
Free wedding ceremonies are uncommon as most churches charge for using their buildings, clergy, and support staff. These fees partially fund the church's upkeep, utilities, spaces, and services rendered. However, Under specific conditions, particular churches might provide services for free or at a discounted rate. This frequently depends on the following factors.
Church membership

The church might waive certain costs or provide a discount on your wedding expenses if you are already a member or your family has been attending the church for an extended period, you can get the free-of-cost wedding arrangements.

Financial Difficulty

If a couple has financial difficulties, some churches might offer their services for free or at a discounted rate. You must demonstrate your compelling situation and inability to afford the wedding's circumstances.

Community Service

As part of their undertaking for low-income people, churches that do weddings for free can be found through community service and expansion of social help groups. You simply need to figure out the local network that can give you the opportunity.

Minimum Ceremonies

Particular churches might be more accommodating regarding wedding expenses if a couple wants a modest, simple, low-cost, and straightforward ceremony without the typical extras of a larger wedding.

Special Occasions or Seasons of the Year

Some churches conduct free ceremonies and marriages during specific seasons of the year or on special events as part of special programs. You can look for the flyers promoted by such churches that do weddings for free and receive the opportunity grants.
Conclusion
Different churches that do weddings for free have been discussed, although there is no specific program or policy that claims the wedding assistance free of cost, and getting such benefits may entirely depend upon negotiation and soft skills.
FAQs
Here are the Frequently Asked Questions to help you fetch quick answers regarding churches that do weddings for free for military veterans for better understanding.
Can I get married in a local church?
You can marry in the church of your new parish. In all cases involving church services – i.e. going to regular church services, baptism, confirmation or marriage – this applies only to Church of England services.
What are the Churches that provide the Wedding Assistance?
Generally, all churches are open to assist you during emergency circumstances and when you have no other choices. Concord Church and Catholic Churches have detailed information.
How do I pay for a wedding I can't afford?
You can seek the wedding expenses either from your family relatives, take loans from the cash agencies, or get external help from the nearby local church administration, considering you've been a member of that church for a long time.
Can you get married for free in Georgia?
Since August 4, 2023, the courthouse has offered free wedding ceremonies every Friday for couples with a Fulton County marriage license
Does Florida have wedding chapels?
Yes, you can get wedding assistance from Andrew's Wedding Chapel Florida – Dunedin in Florida.
Do churches charge for weddings?
No, Churches do not charge for doing weddings in their space. However, not every church offers a free wedding, and you may have to manage the extra cost of the wedding associated with the different levels of arrangements and facilities. For modest weddings, churches provide the basic level of wedding necessities.