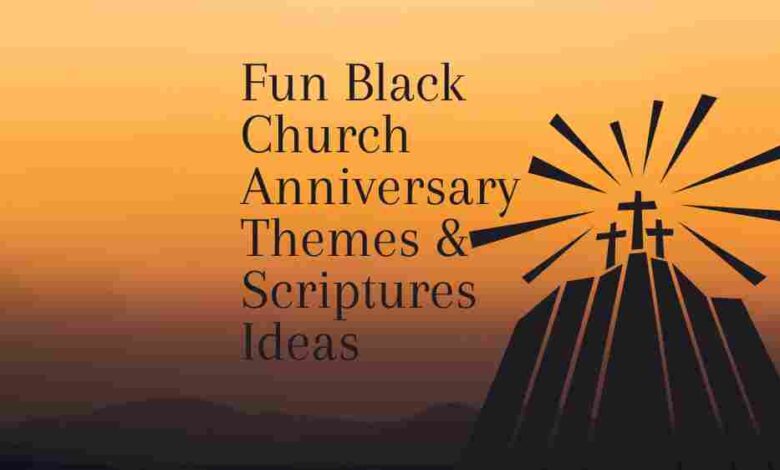 Celebrations are in order; it's your Church's anniversary!!! With black churches' rich cultural history, choosing a theme that resonates with every churchgoer can get tricky. You can plan a picnic, bingo, a special dinner, or a full-blown party with music, food, and recreation. To plan a successful event, you can simplify your task by using the sample ideas for black church anniversary themes and scriptures suggested ahead.
Fun Black Church Anniversary Themes And Scriptures
Planning a church event isn't easy, especially when you plan to have a themed celebration. Several factors, like the theme aligning with the church's beliefs and ensuring entertainment without hurting anyone's sentiments, can affect the choice of a theme. One theme can never go wrong – celebrating church anniversary with scriptures. Here are 15 black church anniversary themes and scriptures you can explore: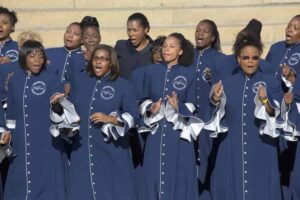 1. Rooted in Faith, Growing in Grace
Scripture: Colossians 2:7: "Rooted and built up in him, strengthened in the faith as you were taught, and overflowing with thankfulness."
How To Plan:
This black church anniversary theme speaks to the idea of the foundational belief systems and values upon which the church was built. As the church grows, it's not just about increasing numbers but also deepening spiritual understanding and maturity.
Following the scripture, you can organize a sermon on the anniversary and a plantation drive.
You can also organize a lunch or dinner fiesta after the plantation drive.
2. A Legacy of Love and Leadership
Scripture: John 13:34–35: "A new command I give you: Love one another. As I have loved you, so you must love one another."
How To Plan
Focusing on Christ's call to love one another, this theme can be used to explore the church's role in guiding community members toward embracing love as a primary virtue and stepping up as leaders.
You can celebrate the role of devoted community members by honoring them and organizing a musical evening in their name.
3. From Trials to Triumphs: Celebrating God's Faithfulness
Scripture: James 1:2-4: "Consider it pure joy, my brothers and sisters, whenever you face trials of many kinds, because you know that the testing of your faith produces perseverance."
How To Plan
This black church anniversary theme acknowledges challenges and tribulations while celebrating the triumphs and victories achieved.
It recognizes that challenges test and refine faith, leading to perseverance and maturity.
A meet-and-greet can be planned where you can invite all the people from the community who are thriving in their profession to interact with the locals.
You can also plan games that can bring the community together.
4. Unity in Diversity: Celebrating Our Journey Together
Scripture: 1 Corinthians 12:12–13: "Just as a body, though one, has many parts, but all its many parts form one body, so it is with Christ."
How To Plan
This emphasizes the diversity of the Body of Christ and how every member, regardless of their background or role, contributes to the whole.
The church becomes a reflection of unity in diversity. After a hearty sermon, you can organize a wine-and-dine festival or bowling competition for the adults while you organize a fun fair for the kids. A donation drive to help the homeless can serve the cause as well.
5. Lifting Every Voice: A Symphony of Praise
Scripture: Psalm 100:1: "Make a joyful noise unto the LORD, all ye lands."
How To Plan
Rejoicing, expressing gratitude, and coming together in unity to worship, so you can incorporate musical symbols, vibrant colors, and possibly a graphic representation of people from various lands or backgrounds to depict unity is the central black church anniversary theme of this psalm.
You can organize a program where the psalm is read, and a brief history of the church is narrated in a fun way by either the elderly or the pastor.
This can bloom into a fun dance party where the musically inclined can play their instruments while others dance to their beats.
You can also plan a potluck-style lunch or dinner. You can end the event with a small prayer or by lighting candles.
6. Bridges to the Future: Honoring Our Past, Shaping Tomorrow
Scripture: Jeremiah 29:11: "For I know the plans I have for you, declares the Lord, plans for welfare and not for evil, to give you a future and a hope."
How To Plan
Celebrating the church's legacy and history is one of the less-used black church anniversary themes and scriptures, while also looking forward to the potential and promises that the future holds.
You can decorate the church hall and grounds with banners featuring the scripture and use pathways, open doors, and sunrise motifs to symbolize God's plans, hope, and a promising future.
You can organize a hymn identification contest to get the community to identify the hymns based on the scripture.
You can also set up a vision board so the churchgoers can pin their hopes and wishes for their and the church's future.
7. Walking by Faith: Decades of Devotion
Scripture: 2 Corinthians 5:7: "For we walk by faith, not by sight."
How To Plan
This theme reaffirms the commitment to a faith-based life, reminding the congregation of the continued dedication over the years and the importance of faith as the guiding principle.
You can set up a simple maze and ask attendees to walk it first normally, then blindfolded, guided by a partner.
This demonstrates trust and the essence of walking by faith. You can also organize a dinner to highlight traditional dishes and perhaps introduce a few surprise dishes—a nod to trying something new by faith.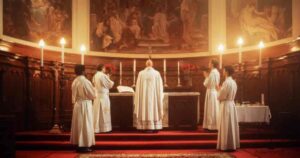 8. Anchored in Hope: Celebrating God's Steadfast Love
Scripture: Hebrews 6:19: "We have this hope as an anchor for the soul, firm and secure."
How To Plan
Assuring believers that God's love remains constant and unshakable, this black church anniversary theme is a remembrance of his presence, anchoring them amidst life's storms.
You can celebrate the theme of hope and love by discussing the unwavering nature of divine hope and its role in guiding and grounding the church community.
A creative evening with a theme of the sea and sailors can be organized, where the participants can show their creativity by making sea-related drawings and models.
A seafood dinner can also be planned to culminate the event.
9. Sankofa: Learning from the Past, Building the Future
Scripture: Isaiah 43:18–19: "Forget the former things; do not dwell on the past. See, I am doing a new thing!"
How To Plan
'Sankofa' means 'go back and get it.' This theme promotes understanding and appreciating the past to navigate the future successfully.
You can organize a plantation drive to signify the sowing seeds of the new age or arrange a movie night where the new age movies are screened for the attendees.
10. Hand in Hand: Generations of Faith and Fellowship
Scripture: Psalm 145:4: "One generation shall commend your works to another, and shall declare your mighty acts."
How To Plan
You can enhance the church's display with images spanning various generations – elders, adults, youth, and children.
Motifs of intertwined trees or linking chains to symbolize generational connections can also be used.
You can organize breakout sessions where older members share life lessons and younger ones share modern-day challenges, fostering understanding, followed by a feast combining dishes that have been long-time church favorites with newer, contemporary additions.
A proposal to start a food program in your church can also be put forth during one of these events, furthering the cause behind these black church anniversary themes and scriptures.
11. Mighty Fortress: A Legacy of Strength and Salvation
Scripture: Psalm 46: "God is our refuge and strength, an ever-present help in trouble."
How To Plan
The church is its members' protective refuge and spiritual stronghold, offering strength and salvation in challenging times.
The sermon can encompass a prayer celebrating God's gratitude, reading the psalm, and testimonials of experienced members.
You can also include music in your event—a mix of soulful gospel and hymns, like "Rock of Ages" and "You Are My Hiding Place," reflecting the theme of divine shelter.
You can organize a donation drive to further the message of the psalm. A soup kitchen for the homeless or a collective effort to reduce homelessness can be a great way to celebrate the church's cause and theme.
This is one of those black church anniversary themes that can help those in need while inculcating a feeling of empathy in the attendees.
12. Voices of Victory: Proclaiming God's Goodness
Scripture: Revelation 12:11: "They triumphed over him by the blood of the Lamb and by the word of their testimony."
How To Plan
This black church anniversary theme underscores the power of personal testimonies in overcoming adversities and challenges.
The atmosphere must give off the vibes of victory and sacrifice. You can use the color red to symbolize the blood of the Lamb and golden accents for triumph.
After the sermon, you can have attendees write their testimonies, which can be sealed to be opened at a future church anniversary, showing God's enduring power.
13. Still, We Rise: A Legacy of Faith, Resilience, and Renewal
Scripture: Isaiah 40:31: "But those who hope in the Lord will renew their strength. They will soar on wings like eagles; they will run and not grow weary; they will walk and not be faint."
How To Plan
Drawing inspiration from Maya Angelou's poem, this theme champions resilience, spiritual rejuvenation, and rising above challenges.
You can organize a creative evening where the attendees can sketch, paint, or model their interpretation of the scripture.
A soulful yoga session can also be organized to establish the themes of spiritual rejuvenation and rising above challenges. This is one of the lesser-used black church anniversary themes and scriptures with a twofold effect.
14. From Generation to Generation: God's Unfailing Love
Scripture: Psalm 100:5: "For the Lord is good; his steadfast love endures forever, and his faithfulness to all generations."
How To Plan
This black church anniversary theme emphasizes that His love remains unchanged throughout generations by focusing on the continuity of blessings and God's consistent love.
An event can be organized that honors the knowledge and experience of the elderly. You can also organize a dance event where the attendees can swirl to old and new songs.
Traditional dances can be mixed with new-age dance forms to support honoring the old and accepting the new.
15. The Tapestry of Faith: Weaving Stories, Building Legacies
Scripture: Hebrews 12:1: "Therefore, since we are surrounded by such a great cloud of witnesses, let us throw off everything that hinders and the sin that so easily entangles."
How To Plan
The church's history and future can be visualized as a tapestry where individual stories and experiences intertwine to create a more extensive, beautiful legacy. This black church anniversary theme altogether supports creativity, employment, and religious sentiment.
The program can include sermons, scripture readings, testimonials, and a weaving or knitting exhibition. The items displayed can include weavings made by the attendees.
You can also organize a relay race or a mystery event where clues are parts of clothing or woven material. The anniversary can celebrate the church's lineage while encouraging members to run their spiritual race with unwavering faith, drawing inspiration from the past.
Must Read: Grants to buy a church building
Tips for a thriving church anniversary celebration
Apart from choosing an apt black church anniversary theme, you must also ensure that everything goes as planned to make the event successful. Here are a few tips for organizing a thriving church anniversary celebration:
Engage the Entire Congregation
Remember the History
Involve Local Talent
Host Workshops and Panels
Ensure Community Involvement
Organize Service Projects
Invite Special Guest Speakers
Ensure Cultural Emphasis
Include Interactive Activities
Use Digital and Social Media To Promote
Offer Memorabilia
End with Thanksgiving and Prayer
People Also Ask
Themed parties are fun, especially church events. When you are in the position of planning one, numerous questions can arise. Here are the 3 most frequently asked questions regarding black church anniversary themes and scriptures:
What are creative ways to celebrate a black church anniversary?
You can host various events, such as a potluck, karaoke night, bingo, movie night, or barbecue evening. 
What is the purpose of black church anniversary themes and scriptures?
Every church should celebrate its anniversary at least every twenty-five years so that each generation can learn about its history and join in on a grand celebration of the church.
How do you motivate church members for a themed party?
Appeal to the emotions of your church members. Address them in sermons and your communication channels about the ideas you have—and encourage them to partake in the realization of those ideas. 
The Bottom Line
Black church anniversary themes and scriptures are a great way to celebrate a milestone in your church's progression. You can use any of these ideas to make your event a 100% success. By adding a little personal touch, you can turn the whole event from a dull, drab sermon to a fun fiesta.