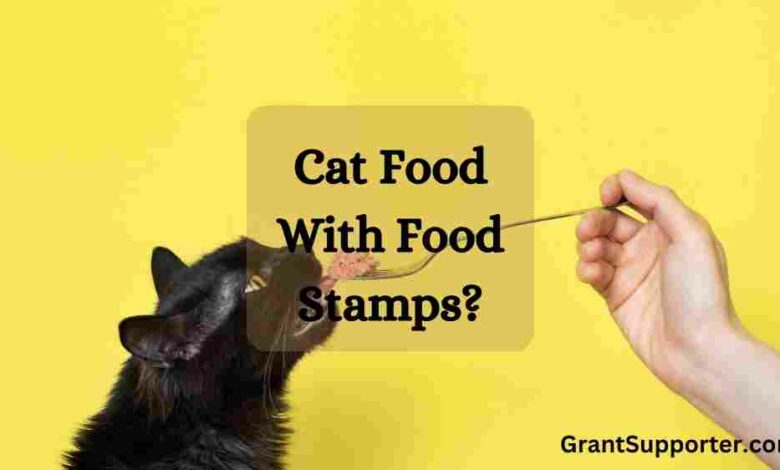 In 2024, using food stamps to buy cat food is not permitted, as these assistance programs are designed to cover only essential food items for low-income individuals and families. Programs like SNAP and TANF have guidelines prohibiting non-edible purchases like pet food.
However, there are creative ways to ensure your pet's well-being without breaking the rules. You can explore alternative options, such as preparing homemade pet food using eligible ingredients to meet your furry friend's needs while staying within the program's regulations. These strategies can help you navigate the limitations of food stamps and provide for your pets effectively.
Can You Buy Cat Food With Food Stamps?
As mentioned above, you can not buy cat food with food stamps. According to the guidelines created by the federal government of the U.S., food stamps can only be used for regular grocery shopping.

Non-alcoholic beverages, plants, and seeds that will enable you to grow more food for your household. Non-food items—like dog and cat food—are strictly prohibited, along with cleaning supplies and hygiene items.
There is a lot of misinformation on the internet that you can buy cat food with food stamps and that TANF benefits can be used to buy pet food, but let me debunk the mystery for you. You can not buy cat food with TANF or EBT cards.
EBT is short for Electronic Benefits Transfer System, which is used by the government to pay out money from multiple benefit programs. The benefits covered under this EBT card are TANF, SNAP, ABD, and RCA.
When you apply for these benefit programs, you will receive this EBT card that can help you realize the program's benefits. The question then arises: Can you buy cat food with EBT card? Read along to know more!!!
Can you buy cat food with EBT?
It is said that to buy cat food with EBT, you need to look for a proper source. For instance, if you get benefits in cash, you can use it any way you please. You can buy cat food with it, but you can not use the SNAP food benefits to buy cat food.
TANF benefits are usually offered in cash, so you can use the amount to get groceries for you and your cat. But when this benefit is not enough to feed you and your cat, you must look for benefits other government-funded programs offer.
For instance, you can buy normal food like fish and meat for your cat. Although, it is not recommended that you use this method because using SNAP benefits to buy pet food in any form is illegal, and when the agency gets to know about your deeds, they can cancel your application, and you could lose all the benefits.
When you are unable to get cat food with food stamps, you can still seek help from the top 10 animal charities in the U.S.
Can you get cat food with EBT?
The question still remains: How can you get cat food with EBT? Well, the simple answer is you can not get cat food with EBT, but there are other ways to feed your pet cat. There are organizations that offer assistance with pet food both through funds and resources. Here's a list of these organizations that you can seek help from: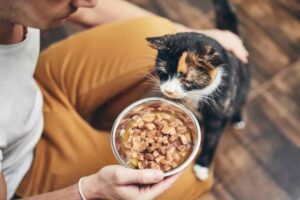 1. The Humane Society
The Humane Society can help you find resources that can assist you to get cat food with EBT. They can also help you get funds from relevant sources to feed your cat and get them veterinary assistance.
The organization also offers a state-by-state directory to help you find pet food assistance in your local area. You can visit their website to find yourself the right kind of resources.
2. CoFund My Pet
This is an online platform that gives you access to the directory of pet food pantries and pet food banks in your area of residence. They offer state-wise resources for low-income pet owners.
You can contact the organizations in your locality and seek help from them. They can offer funds or food based on your need and their assistance policy.
3. Red Rover
Red Rover offers financial assistance to pet owners with low incomes. The organization offers its funds through 3 assistance programs: Urgent Care Grants, Safe Escape Grants, and other Financial Assistance Programs.
While it is not possible to get cat food with food stamps, you can still seek help from this organization.
4. The Pet Fund
The Pet Fund assists low-income pet owners by offering them financial help. They also help those pet owners who are seeking veterinary care for their pets.
The Pet Fund offers help only for non-basic, non-urgent care. This category includes medical needs such as cancer treatment, heart disease, chronic conditions, endocrine diseases, eye diseases, etc.
5. Meals on Wheels
When you apply for assistance from Meals on Wheels, you can also receive pet assistance, including food, grooming, and even veterinary services.
With this benefit, you can also get pet food at a discounted price. All the details regarding the program and its application process can be accessed through its official website.
Frequently Asked Questions
To buy cat food with food stamps is not easy. While it is not possible to get pet food with EBT cards or food stamps, there is a lot of misinformation in the public. Here are the 4 most asked questions answered:
What can you buy with SNAP benefits?
SNAP benefits can be used to purchase eligible food products like meat, fruits, and vegetables. You can use SNAP benefits to buy cat food with EBT cards.
How much does cat food cost?
On average, you can expect to pay around $120-500 for cat food annually.
Where to get cat food except food stamps and EBT?
When you're unable to buy cat food with food stamps, you can seek help from food banks, veterinarians, NGOs, and religious foundations.
Is a pet food pantry a thing?
Yes, there are organizations like STARelief that run pet food pantries. You can look for such agencies and seek help.
The Bottom Line
Can you buy cat food with food stamps? Unfortunately, you can not, but there are other ways you can feed your cat. You can give it homecooked food if it can digest. You can also seek help from non-profit organizations that offer funds in crisis to low-income citizens. Agencies like the Salvation Army and Catholic Charities can help you in your difficult times.