Donations
7 Best Organizations to Donate Hair To | [Exclusive Places]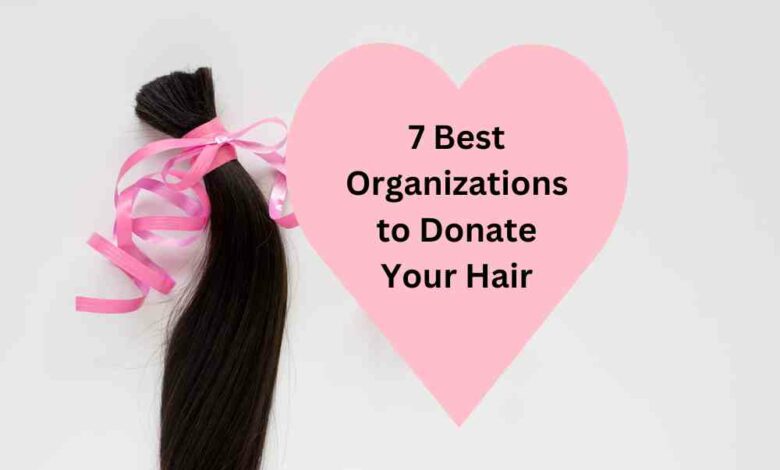 Around 2 million cancer patients and 7 million Alopecia patients benefit annually from your Hair donation. This is magnificent support for those people who have lost their Hair. Although you seek the best organizations to donate Hair to, a beneficiary account must be held for yourself.
Nowadays, the donated Hair is turned into personalized wigs, or hair prostheses, to be used by children, adolescents, and adults affected by alopecia. Best hair donation organizations are listed below.
1. Locks of Love
Locks of Love has been operating since 1997 and is a widely known foundation in America, providing hairpieces and wigs to children under 21 undergoing medical hair loss.
Download the LOL Hair Donation Form Here. This organization's specific requirements are to donate Hair to children, which can ease your documentation choices. Please consider that most of the criteria below are similar to the other organizations.
Hair must be at least 10 inches long, or preferably 12 inches. If Hair is curly, it can be pulled straight to measure. They are looking for the length, and the thickness of your Hair doesn't matter more.
Colored or grey Hair or layered Hair with shorter donations is acceptable. However, layered Hair may be divided into multiple ponytails for assistance.
Your donated Hair must be bundled in a ponytail or a braid and free of hair damage from chemical processing (bleach, perms, and some color treatments).
Before you pack your Hair for shipping, ensure it is not wet or sweaty; it must be cleaned, dry, and no-smelling.
To offset the manufacturing costs of the wigs, they are also accepting direct financial donations apart from the hairs.
We often witness the loss of family members due to the cancer. If the parents are deceased in such cases, the children might suffer. This is when you can get a scholarship for students whose parents are lost in a medical crisis.
Some common reasons for hair loss are severe medical conditions like Chemotherapy, Thyroid disorders, Scalp Infections, Androgenic Alopecia, Telogen Effluvium, and Alopecia Areata or Traction.
Apply for the LOL hairpieces Here. You can also fill out the application form for hairpieces in which they're asking for the children's basic information and their parents' or guardians' information. The following documents are required to be submitted.
Medical Documents

Doctor's Diagnosis Medical Report
Photo of the child without a hairpiece or hat to help them with the custom fit.

Financial Documents

Parent/Guardian's most recent tax returns
Other Proof of Income: Social Security, Welfare, Disability Income, Property Ownership

Personal Documents

Identity Card
Citizenship Card
Two letters of recommendation from a parent, teacher, friend, coach, mentor, doctor, etc., that can explain why the child would benefit from a hairpiece.
2. Wigs for Kids
The Wings for Kids (WfK) has been working since 1981, providing Hair Replacement Treatments and financial support for children losing their hair due to chemotherapy, radiation therapy, Alopecia, Trichotillomania, burns, and other medical issues that cause hair loss.
Download the Wings For Kids Hair Donation Form; additional ways include Hair with a financial donation and Hair with a Girls Scout patch request. You can donate your Hair in 3 simple steps as follows.
Check your hair length (when straightened) before you start packaging them; their acceptable hair size is at least 12 inches or longer. They expect you to send them 14+ inches of hair length.
It would help if you adequately had a cutting your hair ponytails and braids through a hair professional. Contact the nearby local salon that can give you the required cutting.
Get detailed instructions here for Ponytail Donation Guidelines while connecting with your barber. And, then send your Hair donation in a sealed envelope; the address is below.

Wigs For Kids — Hair Donations 24231, Center Ridge Road Westlake, Ohio 44145
Suffering from hair loss would make people lose their self-confidence and self-esteem; this is one of the best organizations to donate Hair to as a collection hair bank through their children's recipient program that helps children look and feel like themselves again with a new way of seeing their Hair. This provides emotional support for their already lost selves.
Pantene Beautiful Lengths (PBL) was a widely known and famous organization providing hair wings to women surviving cancer with free and real hair wings. The Pantene Beautiful Lengths has partnered with American and Canadian Cancer Societies. 
This Pantene Beautiful Lengths (PBL) program aimed to uplift the women's gender. However, this organization has stopped accepting donations, but you can still opt for their best-selling hair solutions products.
Many people with cancer are bound to be cashless for their other needs. Here is the widely popular Ashley Furniture Free Bed Assistance Program that can help you with your bed arrangements without paying the cost.
3. Hair We Share
With over 500,000 people having already donated their Hair to "Hair We Share" (a 501(c)3 non-profit organization), it is committed to providing customized, human hair wigs free of charge to anyone who cannot afford the expensive wig prices through their Ponytail Tracking program.
Apply Now – The WIG Application for cancer patients losing Hair is here, offered by the "Hair We Share" foundation; it comes with specific requirements and eligibility, which you can read in detail in the given link.
A doctor's prescription is mandatory for all age groups to be eligible to apply and receive the benefits. Proof of income status would be required for the 18+ patients. This is also considered one of the best hair donation organizations.
You can also join their Ponytail Tracking Program – Donation Form with a financial contribution of $150.00, which ensures you receive the confirmation of the Hair you just donated.
4. A Child's Voice Foundation
This Canadian-based organization, often widely popular as Angel Hair for Kids, helps children with wigs and other hair loss solutions in Canada. Around $2000 amount of donations and 10 to 12 donated Ponytails are converted into one Angel Hair for Kids Child.
Know the Churches Where You Can Donate to help them introduce the Programs offering wigs here that can assist cancer patients with hair loss. They contribute several amounts directly to the recipients through their welfare programs.
This is again one of the best hair donation organizations where you can sponsor one child by donating $2000 under their Angel Hair for Kids program. Please try to contact them directly by visiting their web page and get the latest exclusive highlights about their donation suit.
5. Little Princess Trust
This is another one of the best places to donate Hair since it is a charity group aimed at giving away services to child cancer patients. It has been the most prominent charity funder in research for childhood cancer in the United Kingdom, contributing to over 100 clinical trials and projects.
Donate your Hair at the Little Princess Trust, which comes in the category of the best places to donate Hair and find your contribution with meaning.
With the Little Princess Trust, you can also Donate Online Money to help people with cancer. Here, you would get the opportunity to contribute financially. If not online, different transaction modes are available, such as donation by phone or post.
6. Children With Hair Loss
This non-profit 501(c)(3) organization, founded by Regina Villemure, provides the opportunity to donate Hair and other forms of contribution, such as transplantation treatment and financial contributions for cancer survivors.
Apply here for Hair Donation Registration with Children With Hair Loss to contribute and participate in their program drives for the children suffering from cancer disease and losing their hail following their self-confidence and dignity in the social groups.
While many people in the United States strive for the best places to donate Hair and contribute to society, others across the state also require Coverage for Travel Expenses, especially for Medical cancer treatments that take a lot of doctor appointments and visits.
7. Matter of Trust
Matter of Trust is widely popular and unique in its purpose of using your donated hair. Unlike the other platform that makes the wigs out of your hair, the Matter of Trust manufactures the mats that help clean up oil spills.
Where there are rising expenses for cancer treatments, the other need of the patients and their families takes a toll on their monthly budget. Here, the free gas cards provided by several establishments in the USA would ease your financial burden.
With the natural ability of human hair (even pet hairs for this purpose) to collect and absorb the oil, this unique organization creates the applicable surface mats for households to have the cleaning maintenance in their regular chores.
Using natural hair, the Matter of Trust through Donation is creating an environmental impact, which is often a task of different challenges; this has emerged as one of the best organizations to donate hair to, directly impacting the surroundings other than cancer patients.
Conclusion
This article has a comprehensive list of the seven best organizations to donate hair to, with the listing figures and direct linkages. Your need to assist with your hair would motivate others to contribute their feet of inches in the commodity donations financially.
FAQs
Here are the frequently asked questions for the seekers of the best organizations to donate hair to – where you can help resolve your queries about hair donations.
What is the best charity to donate hair to?
A Child's Voice Foundation runs the Angel Hair for Kids program, where you donate your hair for the betterment of the children. Another charity organization, Little Princess Trust, is famous in the state for hair donations.
What type of hair is best to donate?
The hair that has never been dyed, bleached, or chemically treated, often known as virgin hair, is considered the best type to donate. Mostly, the hairs in length, typically 8 to 12 inches or more, are acceptable in most organizations.
Can you donate 6 inches of hair?
Each organization has the specified length criteria; generally, a producing organization requires hairs between 8 to 12 inches long. However, firms with different purposes, like Matter of Trust, might accept hairs below 8 inches.
Is it worth it to donate hair?
Hair donation is a simple way to give a piece of yourself to another person in need, and the impact can be profound. Your hair will eventually help someone regain their faith and trust in society, which is the work of humanity.
How can I sell my hair for money?
You can sell your hair on places like eBay or reach out to specific wigmakers individually. Online platforms like HairSellon, BuyandSellHair, and World of Wigs would provide excellent deals for your healthy hair.